Instagram, Facebook, YouTube restrict you to one Profile URL. Here's the solution:
Mobile Optimised "Mini-Sites"
Above, mock-up of How it might look on an iPhone. Below is how it looks in real life. These mini-sites look great in real life. You and your customers are sure to love them! Click on any of the pictures of the sites to be brought to the 'actual' live mini-site. Explore them yourself and see what we can do for you, by creating your very own "mini-site".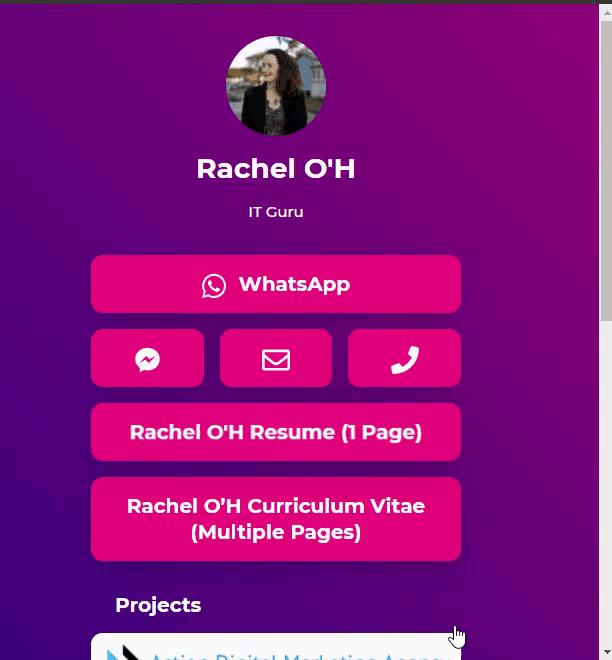 What's a Mini-Site?
A mini-site is a miniature website optimised for mobile phone displays, it allows you to get around the "just one link in your social media profile" problem. This allows you to show visitors links to all your offerings, so they can easily find and visit:
your website (or sites, if you have multiple)
your podcast
your book/ebook
a specific product or offering
links to interview or podcasts you've been part of
links to Events you are promoting or appearing at
links to workshops you are running
links to your other social media pages / channels
a way to contact you
What'sApp, FB Messenger, email or call buttons
A mini-site is useful if you have multiple offerings.
For example:
Pauline Longdon "The Copy Alchemist" has
written a book,
hosts her own podcast (with Rae Brent),
runs a very successful copy writing business,
speaks at international copy writing and marketing events and
coaches and mentors people.
Which of these businesses or offerings should she highlight when restricted to only one URL? Answer: with mini-sites, she can highlight exactly what she wants – including all of her offerings! Here is an example mini-site I've created for her: http://go.actdma.com/pl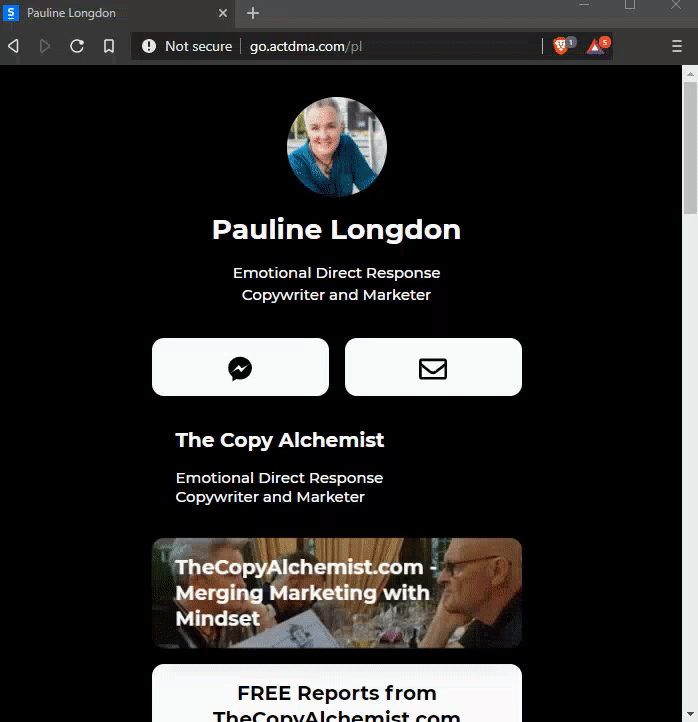 A mini-site can have images, colours and design elements to make it more appealing.
At the moment, we have a special introductory offer on mini-sites.
You can have your own mini-site for $99 per year, including Hosting!
Normally we build them for $169.
We host them for you for $99 AUD per year, however if you act today, as part of our very special introductory offer, we'll build it for free! (Normal Price to build a mini site is $169 AUD.) This means, instead of paying $268 for mini-site creation and first 12 months of hosting, you get it for only $99, saving you $169! You'll be grandfathered in at the special rate of $99 per year ongoing, even if in the future we raise our prices, you'll remain at only $99 per year (or $10 AUD per month if you choose to pay monthly after the first 12 months). Grab this offer quick while it's available
How to buy your Mini-Site
Click on the link below to make the payment via PayPal, then simply email us the links you'd like on your page, and we'll get creating it! You'll have you page within 3 to 4 business days. Then you can give us feedback on colours and images etc, and we can fine-tune it to your liking. The whole process should take 8 to 10 business days, if you are prompt with your feedback.
CLICK HERE TO PURCHASE YOUR MINI-SITE FOR $99 PER ANNAM NOW!
$99 AUD to get your own mini-site, and that includes 5 free modifications/ updates per year. That's fantastic! Grab it now before we come to our senses!
(If you need more than 5 changes per year, extra changes can be made for $20 each. If you feel you might require monthly changes, just let us know and we'll give you a very special discount offer!)
Here is another example Mini-site: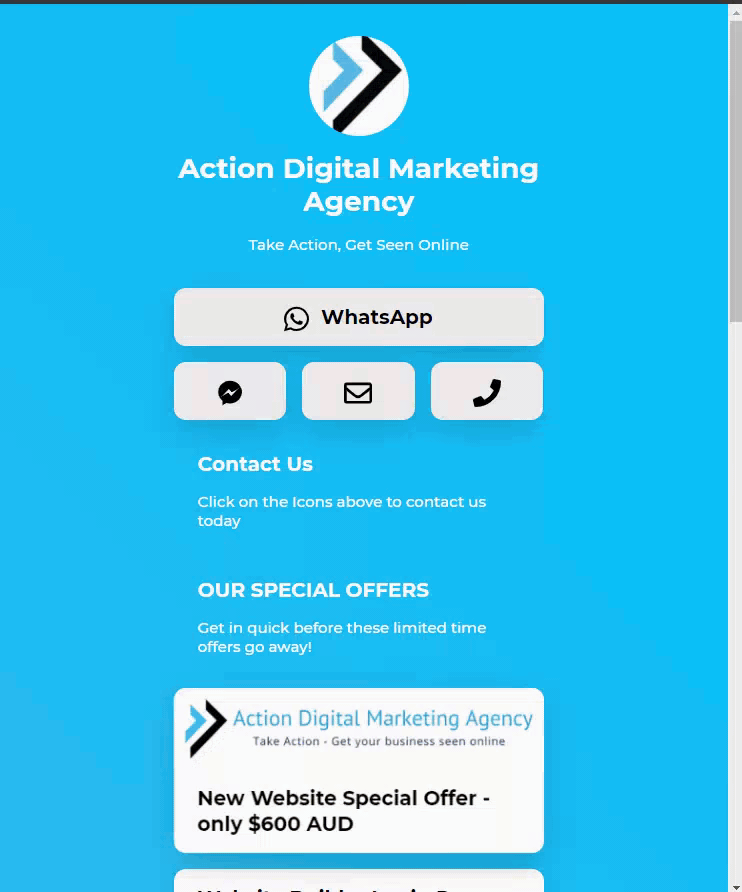 Get yours now! Click the PayPal button above to lock in the special introductory pricing and be grandfathered in at the lowest price! 😃